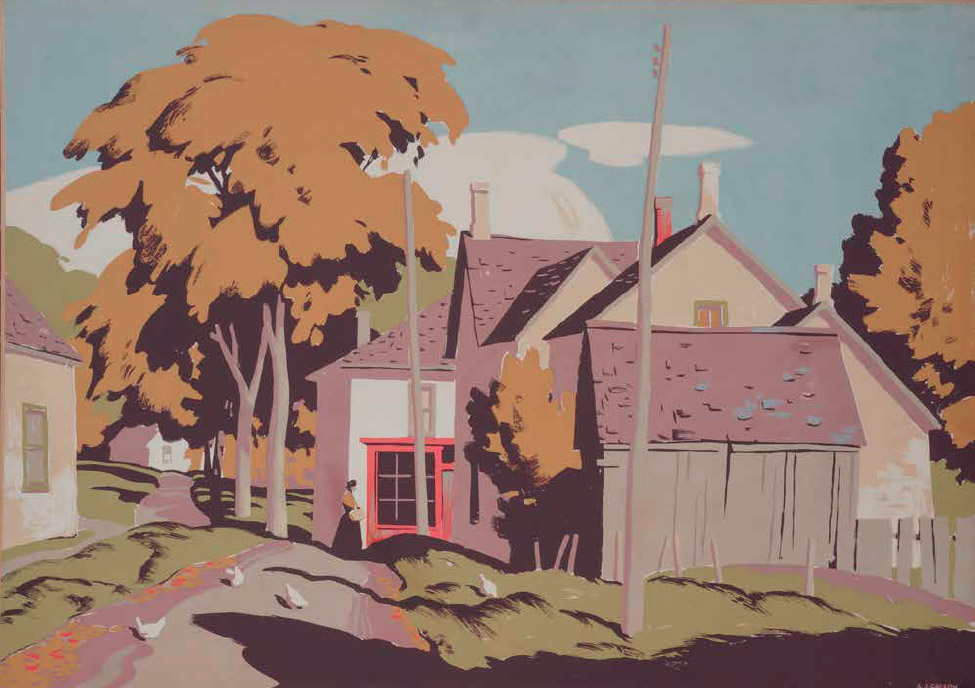 Alfred Joseph Casson, 1898 – 1992
Canadian artist Alfred Joseph Casson was born in Toronto, Ontario of an English father and a Canadian mother. His family moved to Hamilton in 1912, and there he stud­ied under John S. Gordon at the Hamilton Technical School. At the age of 16 he was apprenticed to the Laidlaw Lithography Company in Hamilton, where he retouched photographs, laid patterns and engraved on zinc plates.
Casson's strong sense of design may have been due to his growing interest in various types of reproduction. As Vice President and Art Director for Sampson-Matthews for almost 20 years, he was responsible for the technical development of programmes in connection with reproduction of artists' works carried out by the National Gallery of Canada, Canadian Pulp and Paper Association and Sampson-Matthews Limited.
His article entitled 'The Possibilities of Silk Screen Reproduction' appeared in Canadian Art in 1949, in which one of his own prints, 'Mill Village' was reproduced. His heraldic work was also reproduced by Sampson-Matthews, including armo­rial bearings of Canada and her ten provinces, and a series of landscapes including 'White Pine', 'Fisherman's Point', 'Summer Morning', 'McGregor Bay' and 'Poplar'. His paintings of northern Ontario landscapes and villages won him several awards.