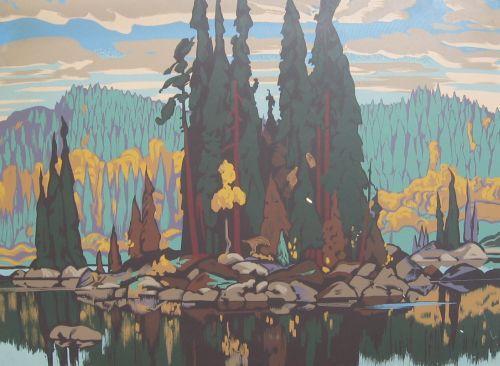 Arthur Lismer, 1885 – 1969
Born in Sheffield, England, Canadian artist Arthur Lismer showed an early interest in art. At the age of thirteen, he won a scholarship to study at night at the Sheffield School of Art while apprenticing in the printing business by day.
Lismer exhibited sixteen of his works in his first Group of Seven show at the Art Gallery of Ontario in 1920. In 1922 he completed 'Isles of Spruce', a landscape of a northern lake in complete calm, with a cluster of spruce trees on a low rocky island casting a reflection on the water. Not a living thing stirs under a blue sky with high floating clouds, giving a sense of isolation and silence which is perhaps broken by the sound of a distant crow or loon.
Reproduced by Sampson Matthews Limited as a serigraph under supervision by
A.J. Casson
, 'Isles of Spruce' was also issued as a six cent stamp in September 1970, to commemorate the 50th anniversary of the founding of the Group of Seven.