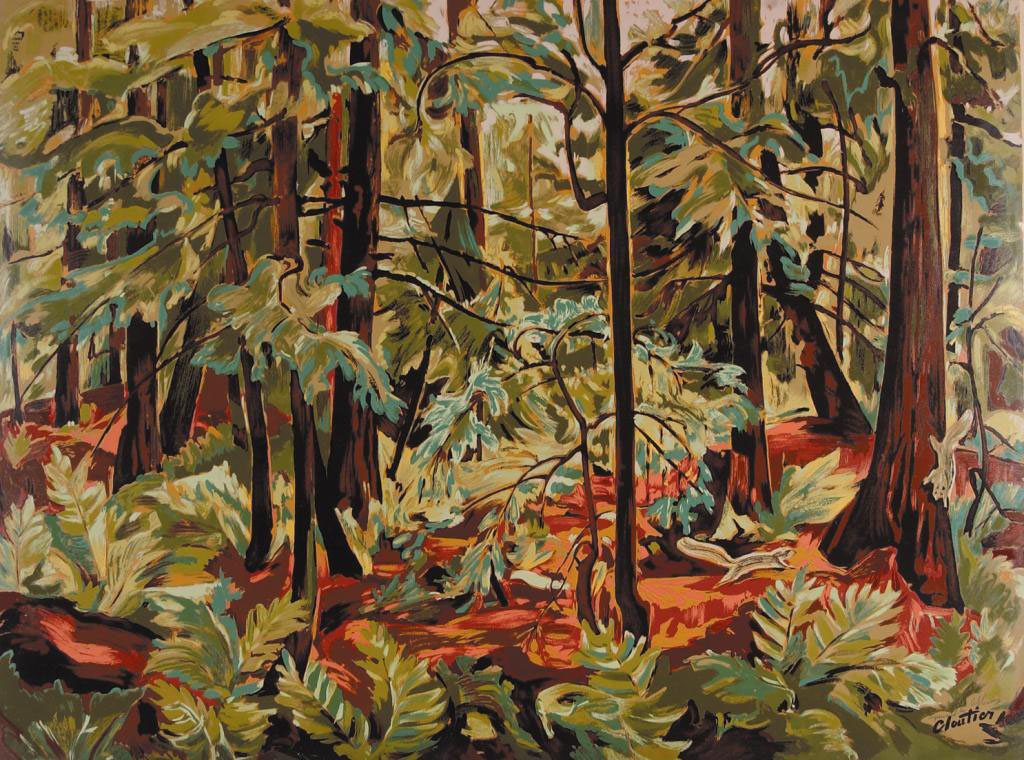 Albert Edward Cloutier, 1902 – 1965
Born in Massachusetts of Canadian parents, Canadian artist Albert Edward Cloutier moved to Canada in 1903. He received encouragement in the arts from his parents and started painting at the Monument National at the age of 11.
Mostly self taught, he took frequent painting trips with A. Y. Jackson and Edwin Holgate of the Group of Seven. For a number of years he worked as a commercial artist, but later turned to the field of fine arts exclusively. He was influenced in his early work by reproductions of the French Impressionists, the Group of Seven and the pictorial of work by Cézanne. His later style was more abstracted, based on an intensified realism. Essentially a painter and graphic artist, he has worked in oils, watercolours, tempera, clay, wood, metals, and mosaics.
The print entitled 'Eastern Hemlock' was commissioned specifically for the Trees of Canada series by Sampson-Matthews in 1950, and was paid for by the Canadian Pulp and Paper Association. The image was to represent the trees in the  untouched Northern Canadian landscape. The viewer is placed in the middle of a hemlock forest, looking through the calm from ferns to sky. Its size is important, as the large scale creates a sense of awe at nature's calming power. Being painted in greens, reds, and browns, this work makes the viewer pause and feel refreshed, as if witnessing a healthy Canadian ecosystem.