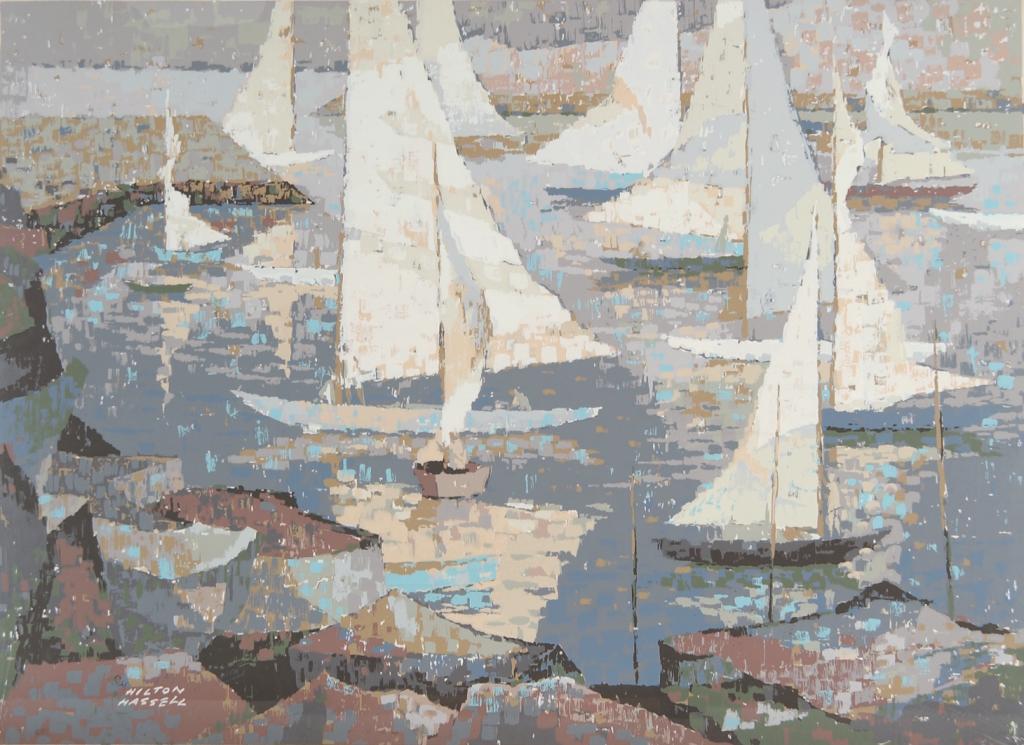 Born in Lachine, Quebec, Canadian artist Hilton MacDonald Hassell started painting at the age of 17, and studied at the Ontario College of Art under J. W. Beatty,
J.E.H. Macdonald
, and F.H. Johnston. He then travelled to England and studied for a short time under Hayward Veal at the Heatherleys School.
Much of Hassell's development today is due to many years of study on his own. He was employed by Brigdens Limited in graphic media until 1955, when he turned to painting full time. Hassell painted a variety of subjects in his career, but most endearing were his moody nautical themes.
'Descending Sails', a mature work produced by Hassell after years of study and technique, is a masterwork for translation into the silkscreen medium. The textured oil paint to emulate brushstrokes can only be achieved by skilled techniques. The sailboats dance like butterflies, captured in that moment before – as the title suggests – the sails are descended. The almost surreal, unnatural complexity as to how many participants would have been in harmony to simultaneously drop both anchor and momentum is unnerving.
The dance is a communal effort, timing being the key acted out in this friendly cove. The angular echoes of the land are reflected in the shape of the sail, and every aspect of this painting. A very exciting and moody image, Harris' unique work is worthy of inclusion in this prestigious set of silkscreens.