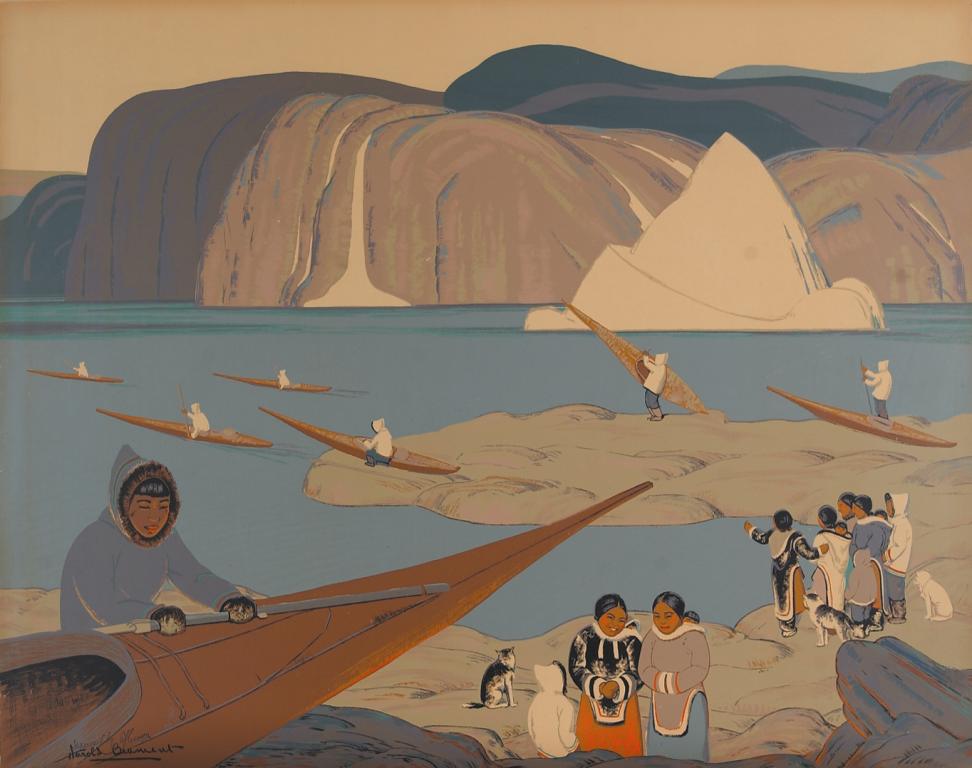 Thomas Harold Beament, 1898 – 1984
Born in Ottawa, Beament served in the Royal Canadian Navy during WWI. He was a landscape, figure and marine painter and printmaker using a decorative, realistic style. He studied law, but also attended the Ontario College of Art in 1922 where he trained under J.W. Beatty. Beament settled in Montreal, where he was a graphic designer, teacher and commander of a division of RVMRC in peacetime.
'Departure for the Hunt' recognizes a valuable time in the life cycle of the North. The excitement of the day, the dangers of the bay, and the beauty of its rhythms. Unlike Harris and Jackson on the trips, Beament saw fragile culture and focused more on the interplay of the characters than on the grandness of the landscape.  The warmer yellow tones play on the feeling of the moment as opposed to the bleakness of the landscape. He would have seen a time when Canadian military operation 'Musk-Ox' had just completed, in 1946. The high North was moving from centuries old behavioural patterns to modernization as a result of its new accessibility. Overall, this silkscreen is a highly composed final homage to Northern life.